Date/Time
Thursday, July 11, 2019
1:30 PM - 4:00 PM

Location
St. Matthews Maryland Community Ministry
Drop in for coffee and a sandwich, (juice for the children) and for conversation and friendly support.
Our team of Care Givers is on hand to provide a listening ear and referrals.  Emergency food is available.  Please bring your Manitoba Health card with you to access emergency food.  Emergency food is limited to twice a month.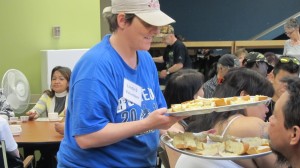 The drop in is staffed by a dedicated team of volunteers from the west end neighbourhood and church and community members from other parts of Winnipeg.  Sandwiches are provided by a rotating roster of Anglican and United Churches who partner with us in this work through the Partners in Mission Program.
The Emergency Food Cupboard is open on Tuesdays and Thursdays.  The emergency kit is enough food for one meal.  Small toiletries and personal hygiene items are also available.  A Manitoba Health card, or an alternative piece of identification, is required to receive a kit.  Emergency Food is only available once every two weeks.  People in need of food are encouraged to register with Winnipeg Harvest, and to get a walk-in number at the Food Supplement Program.  The Food Pantry is generously stocked by donations from congregations.